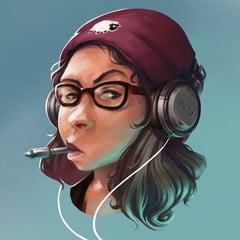 Laura Bevon
Freelance Illustrator & Concept Artist
Lyon, France
About
Welcome to my website !
Freelance 2D Illustrator and concept artist for more than 5 years, I've got a passion for games, either board- or videogames, and obviously... digital art.
Feel free to hit me up :
- if you are searching for a multitasked and professional artist for your project
- if you want some colorful, semi-realistic or cartoony illustration and my style fits your needs
- if you like my work and simply wants me to work on something for/with you NO MATTER WHAT :)
- if you don't have any job to offer but wants to share with another digital art lover
See you around !
Skills
Illustration
Card Illustration
Book Cover Illustration
Character Design
Concept Art
Fantasy
2D Art
UI Art
Software proficiency

Photoshop
SketchBook Pro
InDesign
Experience
Freelance Illustrator at Freelance Work

For Boostr - Acute Games (Current)

- card illustrations for TCG "Urban Rivals"

-----------------------------------------------------------------------------------------------

For Everdreamsoft SA (Current)

- card illustrations for TCG "Spell of Genesis"

-----------------------------------------------------------------------------------------------

For Ludonova (Current)

- box art and fully illustrated board game "Ceylon" (upcoming)

-----------------------------------------------------------------------------------------------

For Mirror Box Games (Current)

- fully illustrated board game "The King's Guild" (upcoming)

-----------------------------------------------------------------------------------------------

For Stonemaier Games (2016)

- tiles in top-down view for the board game "Between 2 Cities : Capitals"

-----------------------------------------------------------------------------------------------

For Remi LaMarra (2016)

- cover illustration for the board game "Seigneurs de Sang"

-----------------------------------------------------------------------------------------------

For Odonata Editions (2015-2016)

- fantasy illustrations for the tabletop RPG "Insectopia"

-----------------------------------------------------------------------------------------------

For Quentin Forestier (2012-2016)

- space fantasy illustrations for the tabletop RPG "Vivere"

-----------------------------------------------------------------------------------------------

For Parasite Publications (2015)

- sci-fi concepts and illustrations for the Sara King's universe and books

-----------------------------------------------------------------------------------------------

For Battlelabs (2014)

- card and poster design for the videogame "daBotcity"

-----------------------------------------------------------------------------------------------

For Studio Nyx (2013)

- illustrations for the videogame "Legions of Steel"

-----------------------------------------------------------------------------------------------

For Everdreamsoft SA (2013)

- card illustrations for the TCG "Moonga"

-----------------------------------------------------------------------------------------------

For Le Département des Sombres Projets (2013)

- illustrations for two tabletop RPG games : Wasteland and Mournblade

-----------------------------------------------------------------------------------------------

For Casus Belli (2013)

- illustrations for the french RPG magazine "Casus Belli"

Freelance UI Artist at Freelance Work

For Year Seventeen

- Icon set for "Fireborne"

- Illustrations, backgrounds for the video game "Graal Seeker"

- User Interface

- Concept arts

- Sprites and game assets

Freelance Layout Artist at Everdreamsoft SA

For Everdreamsoft SA

- Layout for the game-related storybook of Moonga

Freelance Concept Artist at Freelance Work

For Mitchel Viernes (2015)

- Mask concepts for a short movie

For Everdreamsoft SA (2013)

- concept art & character design for the extension "Abethia" of TCG "Moonga"

Freelance Background Artist at Freelance Work

February 2013 - April 2013

For Acreplume

- Backgrounds illustrations for the game "Raids of Nohosphère"

- Backgrounds assets

Internship - Illustrator and Concept artist at Everdreamsoft SA

Geneva, Switzerland

- card illustrations for the TCG "Moonga"

- concept art, character design and interface design

- gestion of orders, cards creation and sketches for the others artists

- monitoring of a comics project